Here is a brief summary of the various features offered in this toolbar.
Website page: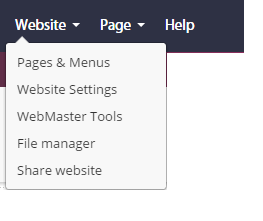 By clicking "Pages", you can navigate between the different website pages. For an explanation about "Pages", click here.
"Website Settings" allows you to change the basic website settings (those you were introduced to at initial setup phase). For a reminder about "Website Settings", click here.
"Webmaster Tools" is primarily intended for advanced users and\or developers. Here you can generate a site map, connect your site data to Google Analytics, perform 301 redirects, define favicon and more. For a detailed explanation, click here.
"File Manager" - upload files to Simbla. Click here for more information
The "Share Website" feature allows you to authorize additional users to manage your website. The authorized users must be registered users of Simbla.
Please note! Granting authorization will allow the user to perform all possible actions on your website, just like the website's creator.
Page tab: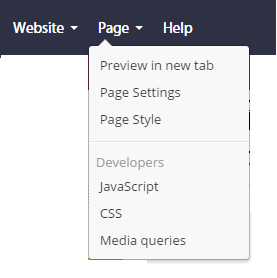 Preview in a new tab: See your page in new browser tab
Page Settings: Change your page's name (URL), SEO and more.
Page style: Full page design settings, such as background image, margin from top/ bottom and more. NOTE! this feature will not be available on pages which are linked to a master page, since it's settings are being imported from the Master.
Developers: This section is intended for developers and programmers with knowledge and experience in CSS and JavaScript. Simbla allows code implementation using these programming languages, thus enriching the website creator's toolbox.For a detailed explanation, click here.
Help tab:
We in Simbla provide service and support that will accompany you along your way. Simbla's support system includes:
Ask your questions in our forum.
Send your question directly to Simbla's support center.
Detailed user guides
FAQ
Video guides
Simbla Support Center's address:
https://simblahelp.zendesk.com/hc/en-us
To read about the bottom left toolbar and to continue to the next page, click here.